Updated: 2013-05-08 21:01 EDT
Readings, Assignments, Labs, and ToDoIndex
Fill in your Course Evaluation Survey for this course. Only nine questions! Closes April 14.
Read (at least) these things (All The Words):
From "Unix for Mac OS X Users" at lynda.com - more to come
Read (All The Words), Do, and save (not for hand in)
Read (All The Words), Do, and then Submit via Blackboard:
Write down the dates of your Final Exams from the Course Home Page.
Final Exam – April 24 1:30pm in C144Index
Your Final Exam schedule is posted in the ICT office. The Final Exam is closed-book, no aids, no devices.

Your Final Exam covers the entire course, with emphasis on material since the second midterm test, and on material that students did not answer well in the previous two tests.

You must read the Test Instructions before the test for important directions on how to enter your answers and the test version number on the mark-sense forms.

There may be more questions on the test than you can answer in the time allowed; answer the ones you know, first.

Practice tests are available for the Final Exam.
Final Exam ResultsIndex
Scores: 100 95.3 93.9 91.9 90.5 89.2 89.2 88.5 87.8 87.8 87.8 87.2 83.1 81.8 81.1 79.7 79.7 78.4 77 75 73 71.6 68.9 68.2 67.6 66.9 64.9 64.2 63.5 63.5 60.8 56.8 55.4 54.1 54.1 52.7 52 51.4 49.3 49.3 48.6 48.6 46.6 45.3 43.9 43.2 42.6 41.2 35.8 35.1 33.1 32.4 32.4 31.8 31.1 31.1 30.4 29.1 23.6 23.6 22.3 19.6
From the Class Notes link on the Course Home PageIndex
From the Classroom Whiteboard/ChalkboardIndex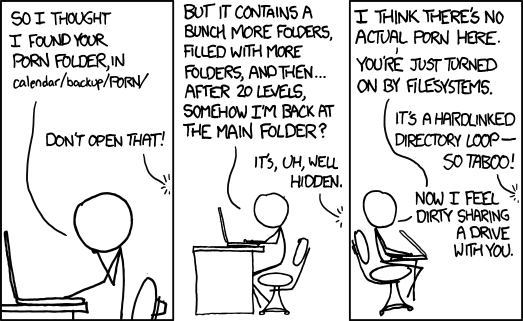 Some CommandsIndex
Keep a notebook with a List of Commands in it.
Some Review QuestionsIndex
Is a tar archive a compressed archive of individual files, or is it an archive of individually compressed files?
Why is the f option critical to the use of tar? (What happens without it?)

Real Sysadmin WorkIndex
You are now logging in to multiple machines. Set your shell PS1 prompt to include the machine name, so that you don't type the wrong command on the wrong machine!
And please stop typing sudo on the CLS.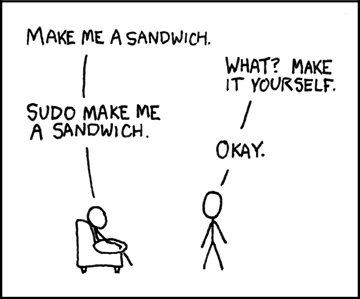 Sysadmin ComicsIndex

Author: 
| Ian! D. Allen  -  idallen@idallen.ca  -  Ottawa, Ontario, Canada
| Home Page: http://idallen.com/   Contact Improv: http://contactimprov.ca/
| College professor (Free/Libre GNU+Linux) at: http://teaching.idallen.com/
| Defend digital freedom:  http://eff.org/  and have fun:  http://fools.ca/
Plain Text - plain text version of this page in Pandoc Markdown format

Author Ian! D. Allen