How I See My JobIndex
I see my job here at College as helping you learn to find answers, and remembering enough of those answers that you can pass a job interview (no Google allowed!) and be useful to an employer.
There is no particular shortcut to remembering the material so that you can demonstrate your skill at your job interview. You need to discover the material, work with it, and use it.
I do my job by providing:
A set of free class notes, instead of a huge and expensive textbook.
Assignments that are based on the notes and that help practice and integrate the material from the notes.
Lectures that explain and expand on those notes and assignments.
Lab time (and email time) where you can ask an instructor for clarification of the class notes, lectures, and assignments.
Why go to college?Index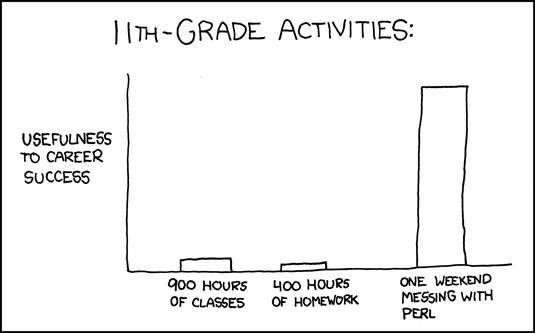 On going to College:
In the end:
What is my job, here?
What is your job, here?
Education is not the learning of facts, but the training of the mind to think. – Albert Einstein
You must enter by yourselfIndex
P.S. I don't open the door, either. I teach you how to do it.
Author: 
| Ian! D. Allen, BA, MMath  -  idallen@idallen.ca  -  Ottawa, Ontario, Canada
| Home Page: http://idallen.com/   Contact Improv: http://contactimprov.ca/
| College professor (Free/Libre GNU+Linux) at: http://teaching.idallen.com/
| Defend digital freedom:  http://eff.org/  and have fun:  http://fools.ca/
Plain Text - plain text version of this page in Pandoc Markdown format

Author Ian! D. Allen